Hey Kids, Happy New Year from
way
Down Under.
("Never worry that the world might end today - it's already tomorrow in
New Zealand
Antarctica.")
Don't worry, this doesn't herald my defeated return to LiveJournal. I just wanted to wish you all well for the New Year, let you know that I miss you and hope you're having a good holiday season, and send reassurance that I haven't frozen to death or anything.
(Although I see Aug's been posting "dispatches" from me occasionally.
Ted
: Yes, I did cut my hair. That picture was taken only a week or two after I got here. (And also, generally happy, yes.) I finally shaved my head last night and it feels freaking awesome.
Shawna
: We get mail here through an APO (Army Post Office, I think?). It's technically a US address, so pretty much any company will ship to it, including UPS, at no extra cost than what they'd charge to mail something to the Continental US. Flat mail comes pretty fast; people even get NetFlix. :P But package mail is really low priority compared to, say, food or science cargo, and we're really backed up on flights due to bad weather, so packages tend to sit in the postoffice in Christchurch for a month or more before they fly it down here. In other words, no bagels. Although someone I work with here has confirmed that Montreal does, indeed, have the best in the world.
Dana
: A penguin walks into a psychologist's office wearing a Santa suit. I'll let you figure out the punchline.
Everyone else
: Thank you for the kind words and warmth. I miss you too.
)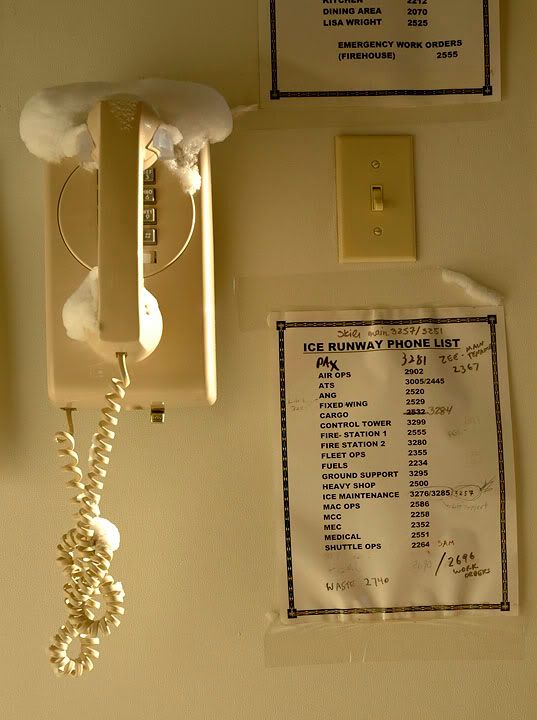 Anyway, Antarctica's amazing, intensely beautiful and fucking strange. It's full of surreal juxtapositions and counterintuitive paradoxes that make it like bootcamp for living with cognitive dissonance... And no, I haven't seen any penguins. But I did see some seals, Antarctic starfish, and lots of skuas. (Not to mention quite a few Kiwis - in good weather, their base is about a twenty minute walk from ours.) The work itself is great - demanding, but not unpleasantly so, plus I work with really interesting people and it's so nice having a job with hours.
I live in a tiny cardboard box sized room in a dorm inhabited primarily by FNGs (first years aka "fucking new guys") called the "Mammoth Mountain Inn". My roommate is a cool girl named Lisa who's down here as a General Assistant (entry level job that involves a lot of shoveling snow), but works as a climbing instructor in the world and is mostly trying to network with the Field Safety and Training department in hopes of someday coming back as a mountain guide. I've been "not-dating" a boy named Eric for a couple of months now - he's a mechanic from Portland and he's kind of a cynical disaffected punk kid, but he makes me smile. I went to Snow School last week, which is a two day training course in snow camping and cold weather survival skills. I got to build and sleep in an igloo-type-structure and eat ridiculous amounts of chocolate.
I haven't had nearly as much time to read or write as I was anticipating, but I've been volunteering at the town library, doing some cross-country skiing, and learning to swing dance, speak Russian, and survive on significantly less sleep than I'm used to. Round-the-clock daylight wreaks havoc on your circadian rhythms, and that combined with the work hours and the weather means everyone down here is, at least to a small degree, chronically hypothermic and sleep-deprived. It's a lot of fun though. The people are great, the vistas breathtaking, there are some pretty good parties, and the Catch-22esque bureaucratic antics of the NSF/Raytheon are endlessly entertaining.
Little stress, lots of laughs, epiphanic moments of various amplitudes, and the food's not
terrible
...although I miss fresh vegetables, cooking for myself, and stars. Still, I'm looking into extending my contract through the Winter.
I'll try to upload a few more pictures when I get the chance, and I'll post some excerpts from my paper journal in another entry for those who are curious about what it's like down here.
I hope you're all doing well and keeping warm, and that the upcoming year is your best one yet. I'll see you when I see you.
Frozen Foxtale, Over and Out.